SHUTTLE PROGRAM PROVIDES GREAT MEMORIES VARC MEMBER!
Ham Operators in the United States and around the world were excited about a Ham in space in 1983.  It was thesecond year of the Space Shuttle progam and Dr. OwenGarriott, a licensed Amateur Radio Operator, was aboard the space craft Columbia on STS-9.  He had received permission to attempt radio contact with civilian Ham Operators on Earth during his free time as a Mission Specialist 1 and crew member for the Columbia–SpaceLab1 mission in late 1983.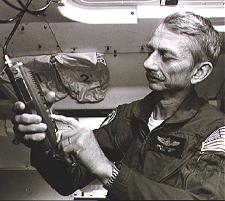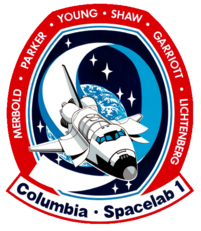 On the morning of Wednesday, December 7, 1983 Dr. Garriott's voice and call sign, W5LFL, were plainly heard over Florida and Georgia as the Shuttle Columbia came across Florida and up the east coast of the United States on orbit 144 of the mission.  At 7:58 AM W5LFL confirmed a contact with WA4BEV, Jimmy Brooks (VARC Member), in Georgia.  Jimmy was at his home in Valdosta and used a homemade antenna for the transmissions on 145.550 mhz.
Dr. Garriott was using a 5 watt walkie-talkie with a temporary antenna taped inside a Shuttle window.  During the contact the space craft was approximately 155 miles above the Earth. The series of two-way radio transmissions from space on this mission were so successful that amateur radio has been a significant part of space flights since 1983.
Ham Radio not only provides a back-up emergency communications system but has also allowed multiple educational opportunities with school students and others when radio equipment was set up at their institutions and young people communicated directly with astronaughts as they cirlced the Earth.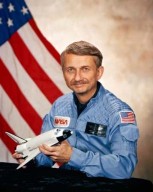 Today the International Space Station continues the tradition of Amateur Radio contacts from space. As the Space Shuttle program comes to an end the many good memories associated with space flight will remain with those who have grown up with the excitement of our men and women blasting off in to space–the new frontier.
The audio recordings with this story were made by Pat Lightcap, a Ham Operator in Madison, Florida.  He was parked in front of the Madison County High School just before 8:00 AM on December 7, 1983 and received the Shuttle Columbia radio transmissions on his mobile VHF radio.
General CQ Recording:
[haiku url="http://www.w4vld.com/wp-content/uploads/2012/01/W5LFLspacecraftColumbia1983.wav"]
Confirmed contact with WA4BEV:
[haiku url="http://www.w4vld.com/wp-content/uploads/2012/01/W5LFL-on-Columbia-22sec-1983.wav"]
[ribbon toplink="true"]NA1SS Contact with KF4GTA[/ribbon]
VARC member Bobby Lacey, KF4GTA, had the unique opportunity to talk with Commander William McArthur aboard the International Space Station in 2005. As you can hear from the recording, Commander McArthur knew exactly where Valdosta is!
[haiku url="https://dl.dropbox.com/u/42374/November-30-2005-1_58PM-CommanderMcArthur.mp3″ title="QSO with NA1SS from KF4GTA"]