Amateur Radio Emergency Service®  or (ARES)
The Amateur Radio Emergency Service® (ARES) consists of licensed amateurs who have voluntarily registered their qualifications and equipment with their local ARES leadership, for communications duty in the public service when disaster strikes.

The Valdosta ARC works with the Lowndes County Emergency Management Agency (LCEMA), whose primary mission is to lead the planning and preparedness efforts within Lowndes County.  This requires working with the numerous local response agencies, governments, and volunteer resource agencies to develop effective all-hazards plans to ensure that Lowndes County and its citizens are adequately prepared for any type of disaster that may affect our local communities.  More information about the LCEMA can be found on the Lowndes County website at www.lowndescounty.com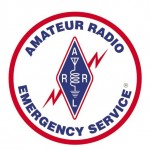 The Valdosta ARC is one of those volunteer organizations who through its technical and membership resources provides auxiliary communications support to LCEMA.
If you are interested in becoming active in emergency communications please consider becoming a member of the Valdosta ARC and a registered ARES member.
For more ARES information at the state level go to www.gaares.org or at the national level go to www.arrl-ga.org